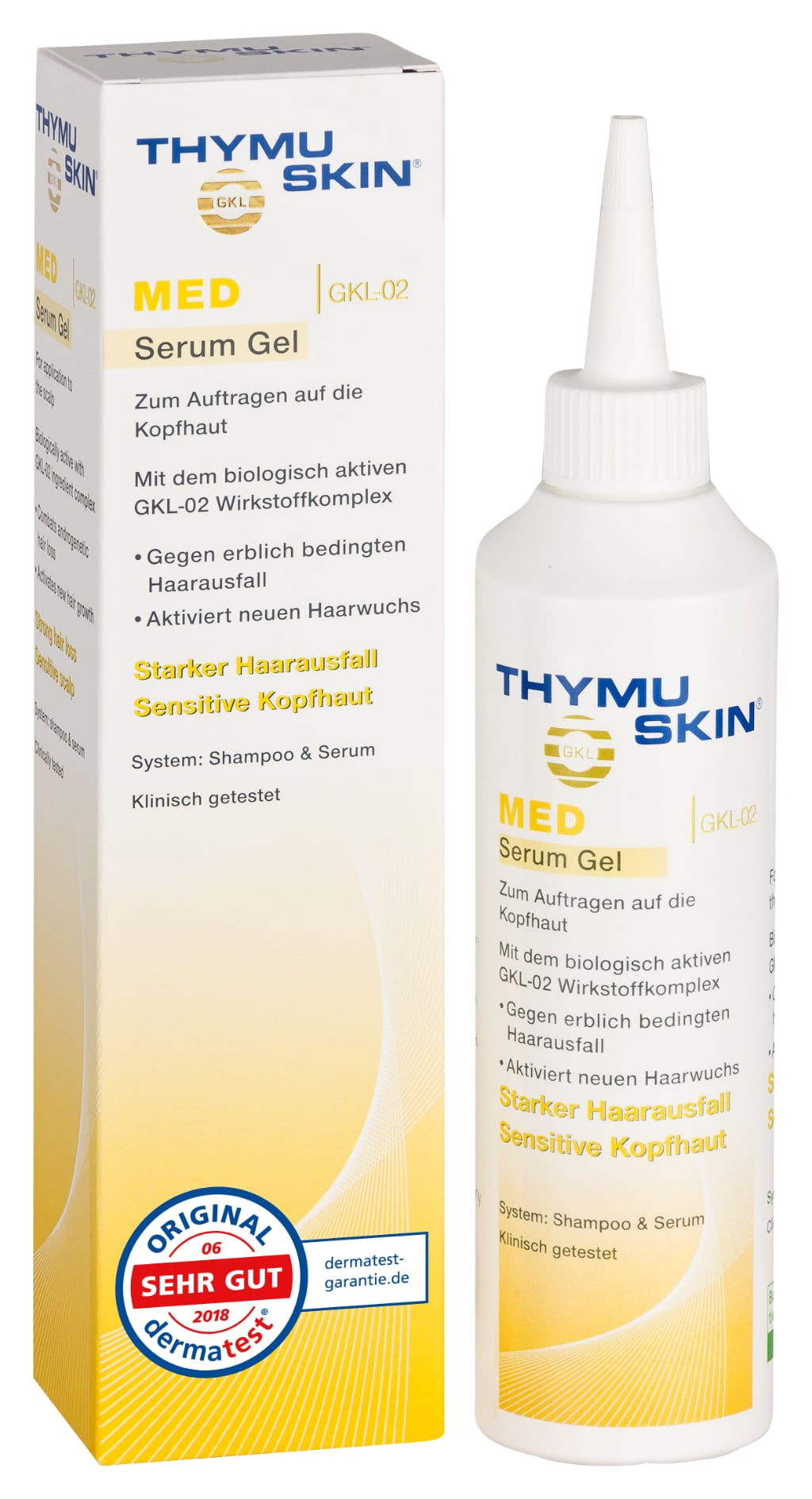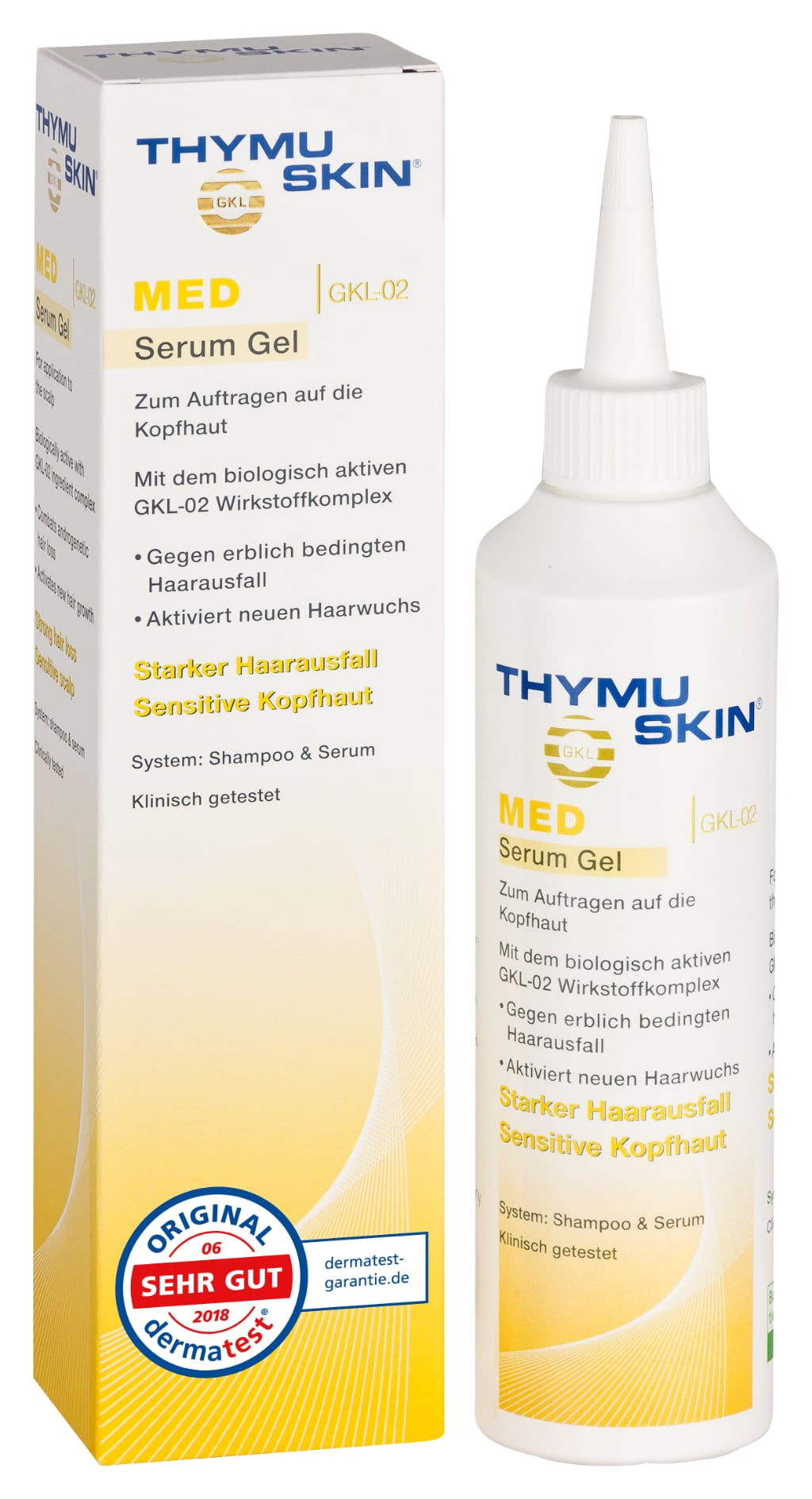 The dermatological Thymuskin Med System against strong hair loss and for the activation of new hair growth.
Suitable for regenerative care in case of circular and diffuse hair loss*
Applicable against strong hair loss and bold spots
Especially for sensitive or dry scalp
Free of side effects, for long-term use
Mix & match with all Thymuskin Shampoos
System: shampoo & scalp serum for combined usage
Dermatologically tested
The application is suitable for children from 3 years, as well as during pregnancy and beast-feeding
Available, delivery time Standard
Product number:
10254339.2
Product information "MED Serum Gel"
The Thymuskin Med Serum Gel is suitable for use in the case of circular and diffuse hair loss. The application supports new hair growth. Due to a high dosage of the thymic peptide active ingredient GKL-02 it is applicable for use in cases of strong hair loss. These regenerative processes require time and the positive effect also depends on the personal predisposition. The autoimmune reaction as the cause of circular hair loss is not stopped, but the undesirable aesthetic effect of hair loss can be counteracted. Many Thymuskin users are Alopecia Areata sufferers and are very satisfied.
Diffuse hair loss is increased hair loss over the whole head. The Thymuskin application counteracts acute hair loss and activates new hair growth. The use of Thymuskin only refers to the symptom of hair loss, not to the cause.
The innovative thymic peptide active ingredient GKL-02 for hair loss
The thymus peptide active ingredient GKL-02 is an integrated reproduction of the natural thymus gland extract - a peptide structure that is modeled on nature. The biological activity of Thymuskin is particularly evident in the activation of the hair cells (keratinocytes), which have a decisive effect on the physiological growth of the hair. The hair formation is stimulated.
Clinical and dermatologic studies confirm: THYMUSKIN® is effective against hair loss
Application (2-step-system)
Wash your hair with Thymuskin Shampoo and leave it on for a short time. After rinsing, dry your hair ideally with a towel. Then part your hair, apply the Thymuskin Serum drop by drop to the scalp and massage it in with your fingertips. Repeat this until the scalp is completely covered. Do not rinse. After that, you can style your hair as usual.
Ingredients THYMUSKIN® MED Serum Gel
AQUA, ALCOHOL DENAT., PROPYLENE GLYCOL, HYDROLYZED WHEAT PROTEIN, CARBOMER, HAMAMELIS VIRGINIANA WATER, SODIUM HYDROXIDE, PANTHENOL, ALOE BARBADENSIS LEAF JUICE POWDER, PYRIDOXINE HCL, SYNTHETIC THYMUS HYDROLYSATE
THYMUSKIN® MED Serum Gel is free of silicone, paraben and perfume. With thymic peptides of non-animal origin.
This information represents the current status. Formulas are subject to development and can change.
For external use only, keep out of the reach of children. For all products no animal tests have been carried out.
*not due to illness
Problem:

Hair loss

Product line:

Med

Size:

100 ml

Type:

Serum

Type of hair loss:

Circular hair loss

, Diffuse hair loss