BALSAM Intensive-Conditioner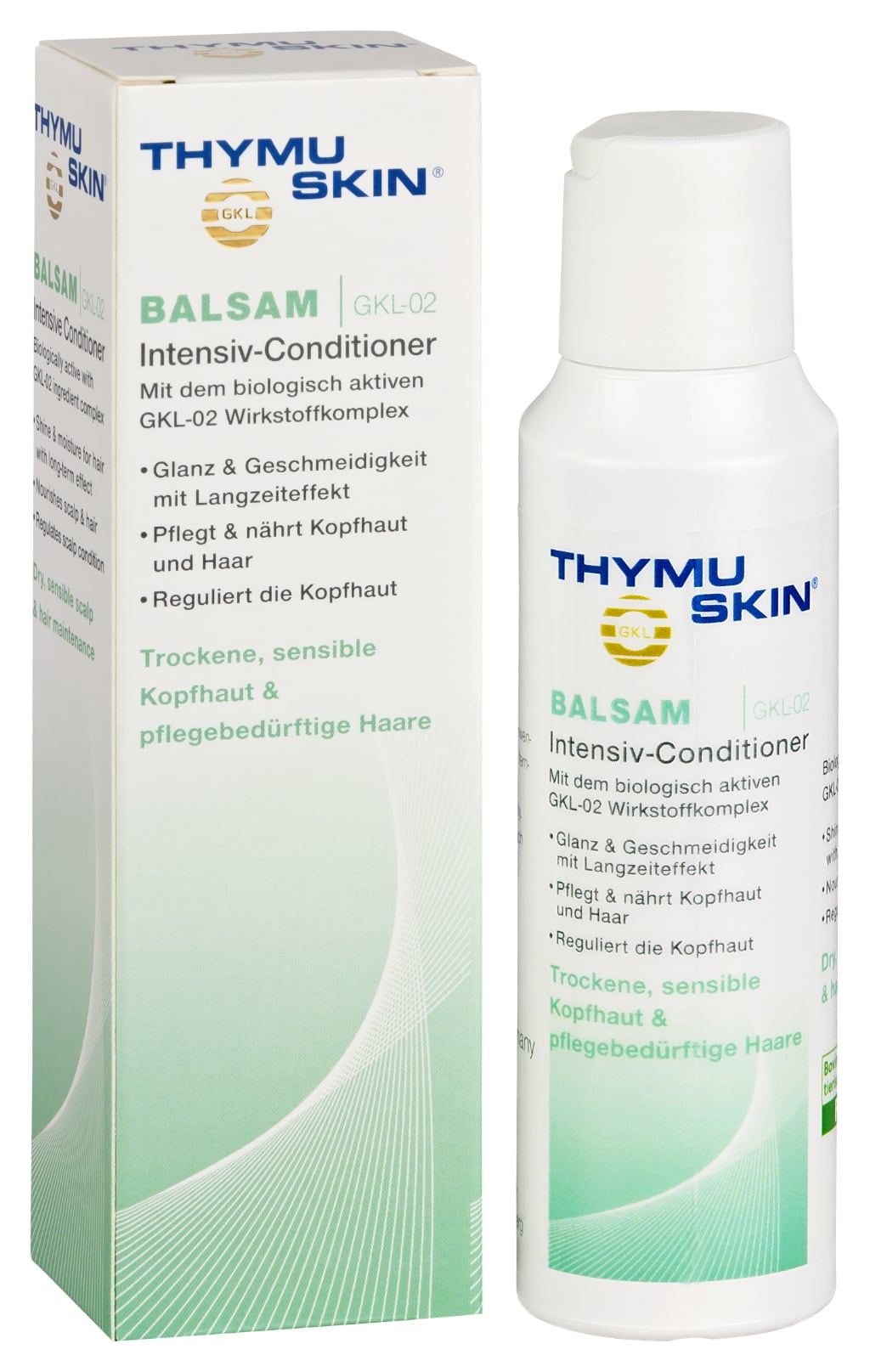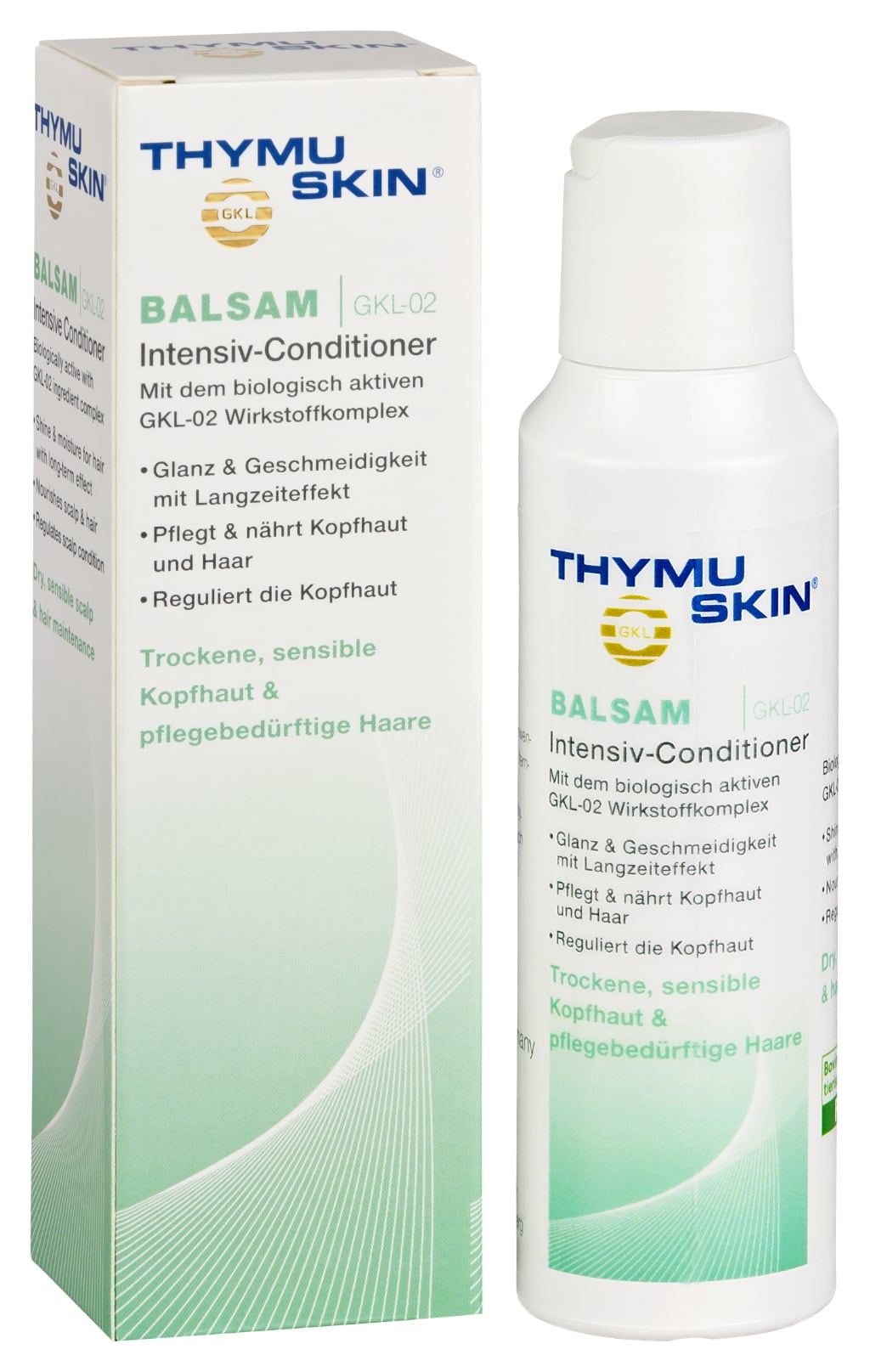 The dermatological Hair Intensive Care for healthy hair.
For shine & moisture with long-term effect
Makes hair sleeker and easier to comb
For dry, sensitive scalp, dry dandruff & scalp itching
The product formula consists of 98% ingredients of natural origin
Payment options

Shipping options

Product number:
03304456.1
Product information "BALSAM Intensive-Conditioner"
Thymuskin Balsam Intensive-Conditioner gives your hair moisture and shine with long-lasting effect. The thymic peptide active ingredient GKL-02 regulates the fat content of the scalp. Especially longer hair becomes smoother and easier to comb. The Balsam also protects against harmful environmental influences. Also applicable after perming or hair coloring.
Care with THYMUSKIN®
The patented thymic peptide active ingredient GKL-02 contained in Thymuskin Balsam Intensive Conditioner consists of non-animal thymis peptides. The biological activity of Thymuskin is particularly evident in the activation of hair cells (keratinocytes), which have a decisive influence on the growth of hair. Hair formation is stimulated.
In addition the Balsam contains avocado oil. This natural oil has an additional regulating effect on the fat content of the scalp.
Application
Thymuskin Balsamm Intensive Conditioner is applied after washing the hair into the still slightly damp hair, before the (optional) use of Thymuskin Serum. It can be used as often as needed.
Note: When using the balm as a scalp care, subsequent application of Thymuskin Serum is not possible. The serum is always applied to a cleansed or untreated scalp. We recommend the next application of Thymuskin Serum after the next hair wash. .
As a rinse-out
If you need to do it quickly, 3 minutes of application time is sufficient. Apply the Balsam to damp hair lengths – not into the hairline. Rinse your hair well afterwards. Then use the Thymuskin Serum (optional).
As a cure pack
Massage the Thymuskin Balm Intensive Conditioner into the hair while the hair is still damp. When doing so, leave out the hairline. Depending on the volume of hair, an amount of about a teaspoon (5- 10 ml) size is sufficient. If your hair is particularly stressed, it is recommended to extend the application time to 10-15 minutes. This will make your hair even smoother and easier to comb. Rinse your hair well afterwards. Then use the Thymuskin Serum (optional).
As scalp care
For sensitive scalp and scalp itching, massage into the hairline and leave for 5-10 minutes. This promotes blood circulation. The nutrients contained regulate and care for the scalp sustainably. Rinse your hair well after the exposure time.
Ingredients THYMUSKIN® Balsam Intensive Conditioner
AQUA, CETEARYL ALCOHOL, STEARAMIDOPROPYL DIMETHYLAMINE, COCOS NUCIFERA OIL, LACTIC ACID, HYDROLYZED WHEAT PROTEIN, SODIUM BENZOATE, PANTHENOL, PARFUM, GLYCERYL STEARATE SE, LINOLEIC ACID, POTASSIUM SORBATE, CI 75810, CAPRYLIC/CAPRIC TRIGLYCERIDE, PROPYLENE GLYCOL, HELIANTHUS ANNUUS SEED OIL, OLEIC ACID, TOCOPHERYL ACETATE, RETINYL PALMITATE, BENZYL SALICYLATE, HEXYL CINNAMAL, PALMITIC ACID, LIMONENE, STEARIC ACID, CALENDULA OFFICINALIS FLOWER EXTRACT, GLUCOSE, SYNTHETIC THYMUS HYDROLYSATE, HYPERICUM PERFORATUM FLOWER/LEAF/STEM EXTRACT, LINOLENIC ACID, ACHILLEA MILLEFOLIUM EXTRACT, TOCOPHEROL, SORBITOL, PHENOXYETHANOL, ETHYLHEXYLGLYCERIN
THYMUSKIN®BALSAM INTENSIVE-CONDITIONER is free from silicone, paraben, microplastics, soluble plastics and artificial colors. With thymic peptides of non-animal origin. The product formula consists of 98% ingredients of natural origin.
This information represents the current status. Formulas are subject to development and can change.
For external use only, keep out of the reach of children. For all products no animal tests have been carried out.
| | |
| --- | --- |
| Problem: | Intensive care |
| Product line: | Balsam |
| Size: | 100 ml |
| Type: | Hair care |